Timemaker
Once at a family reunion we were talking about time. It turned out that everyone had mental images of time, but they were all different. For instance, I imagine time as a rug that I am making, close by its all strands and colors but from a distance the rug forms into patterns. My uncle saw it as a 3d spiral thing. We decided to do a piece that looks at how people imagine and navigate through time.TimeMaker, a commission by Art Center Nabi, is a place where individuals can express their subjective thoughts and experiences about the abstract theme of time. It is a Clock Gallery where one can take a look at other people's interpretations of time.
Process
We asked people from various backgrounds to draw their perception of time. These sessions were organized in groups including family and friends in New York and students at Parsons and Amhurst. We also asked our commissioners in Korea to do the same. Finally we had a sample set of about 80 drawings of subjective experiences of time. We provide some examples below: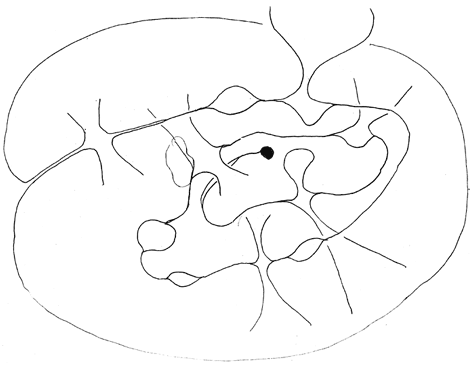 Time as a stomach! Often the stomach is drawn with a head and anus. Somehow the body negotiates its way through this soft, cave-like interior. Often parcels of time are indicated, that tend to change in size according to their location.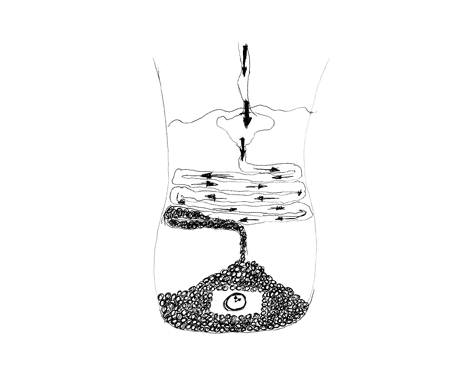 Another more literal version of a stomach combined with an hourglass.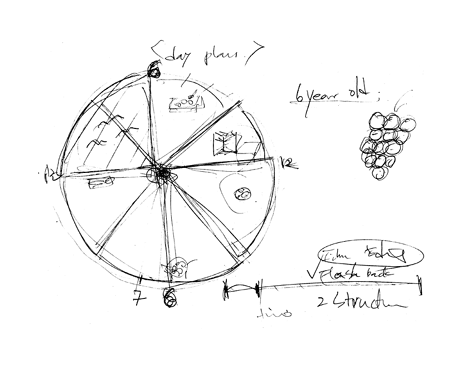 When she was 6 years old this Korean woman had to draw a pie-chart that represented her day at school. These drawings were put on a wall and she then had to keep to this schedule.
.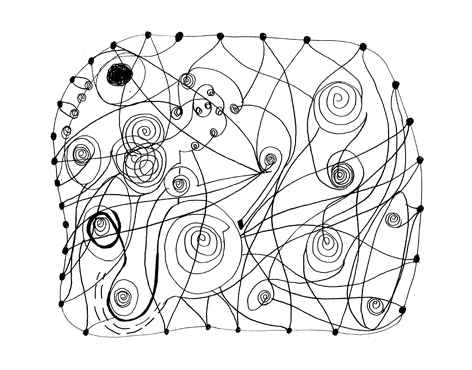 Time is a matrix. This is a conception of time that people often tell me they understand, but which leaves me totally confused.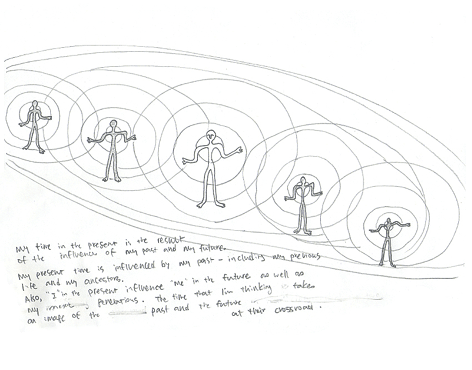 It was astonishing to see time expressed through incarnation. Is it linear or circular? Biological? Spiritual time?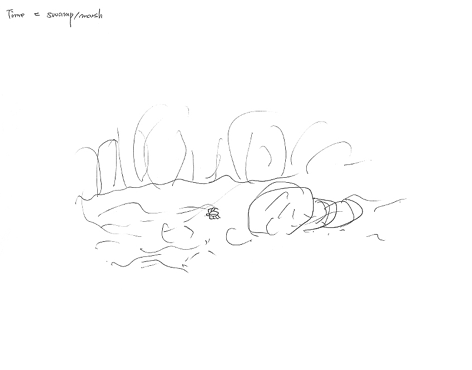 Psychological time. A person feels like a bug in a swamp. In a sense this is like being inside the stomach, both the future and the past are inconceivable. In this case the marsh also slows a person down, doesn't allow for high speed access.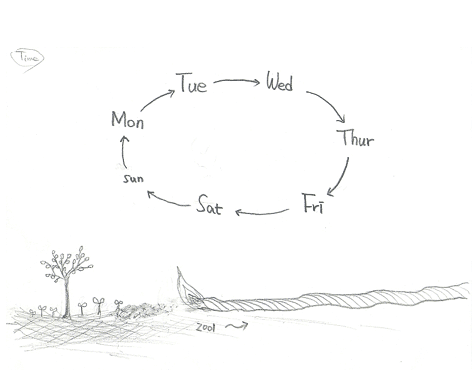 There are three mixed metaphors. First the parable of the seed, where seeds scattered in the past sometimes grow into trees. Then the future is conceived as a fuse, the future as potential, also an explosion is implied (death?). Many people are forced to draw time in different ways/scales. In this case the cycle of a week is independent.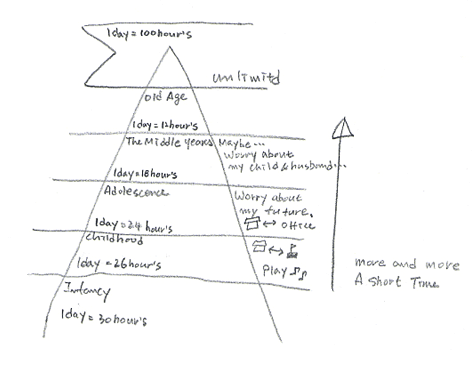 Time for a child is eternal compared to time for an elderly person, for whom time flies past. For a child, a day is about 30 hours, in old age a day rushes past in an hour and a half.There is some experimental evidence for this. If you ask computer literate 20 yr. olds to purchase items in a hierarchical site (amazon, or buy.com), then ask the same task of computer literate 60 year olds – both will tell you that it took them about 4 minutes, even though the 20 yr. olds did it in 2 minutes and the 60 yr. olds did it in 8 minutes.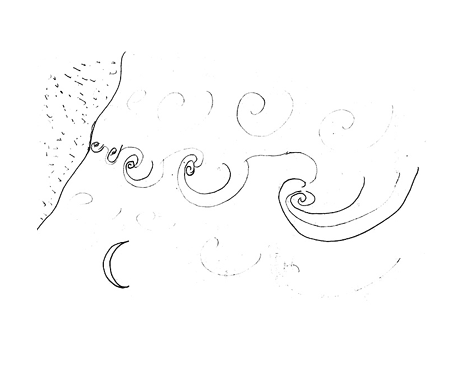 Spirals of time are very popular. In this case they emerge from a swamp of time past, as if the personality gave birth to itself. The moon here appears to govern the spiral tides. People often see night and day as being important. They are not programmers.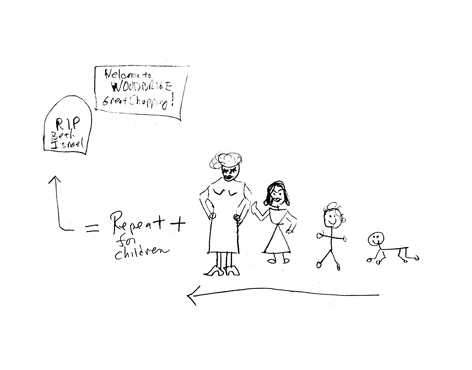 A woman goes through her lifecycle, then a conditional statement 'Repeat for children'. So time again is both linear and cyclical. However, the body dies and jokily goes to a shopping mall (heaven). This and the reincarnation example are the only examples of time after death.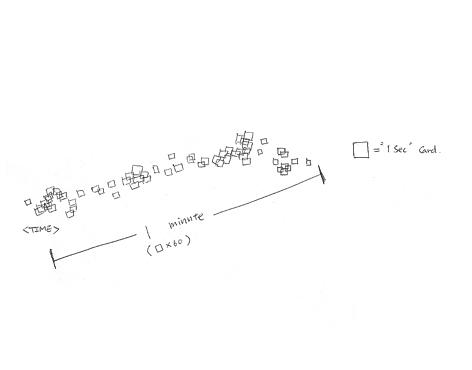 Here time is focused into a minute. But even within a minute one is conscious and unconscious of the passage of time, each second here represented as a card.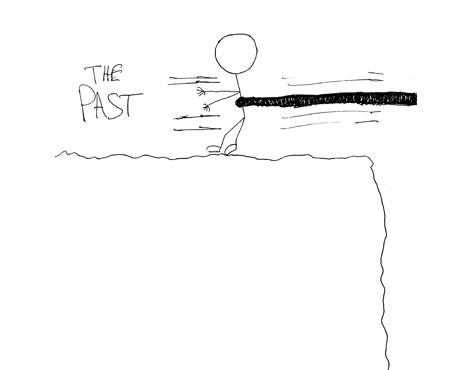 The Angel being dragged into the uncertain future while grasping for the past. A familiar image from the 20th century but drawn by a high school student.
Interface
As we analyzed these time-drawings we realized that there were an extraordinary number of ways in which people thought about time. However, several iconic elements re-occurred when people drew time… people, clouds, spirals, arrows, trees/bushes, circles.. to name a few. We decided to create these icons as animated objects in Flash. As people dragged and dropped an object, they could scale it, and the length of time between 'drag' and 'drop' created the animation length.
Below are a few humorous tests of the interface on the first few days: